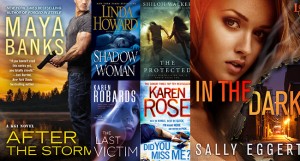 Today, Romance at Random's 14 Days of Giveaways treat is 5 Romantic Suspense prize packs, each containing After The Storm by Maya Banks, The Last Victim by Karen Robards, Shadow Woman by Linda Howard, In the Dark by Sally Eggert, Did You Miss Me? by Karen Rose, and The Protected by Shiloh Walker.
(In case you missed it, THAT'S ME right in the middle of that list of amazing romantic suspense authors!  I'm seriously geeking out about it!  Can you tell?)
Click HERE to enter!  Five lucky winners will be chosen!